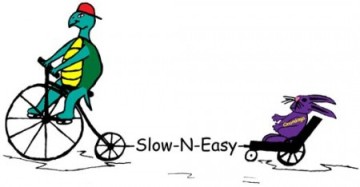 Greetings to all you Slow 'n Easy Riders,
April 17,2012 marked the start of the OCC Slow 'n Easy Rides for the 2012 cycling season.  Slow 'n Easy Rides are every Tuesday evening (weather permitting) through August.   Mike Lyon and myself are looking forward to seeing all our old friends from last season as well as all of you who want to give it a try this year.
For those of you who are thinking about venturing out for the first time but you feel intimidated by riding with a bunch of other riders…don't be intimidated by any of it…we were all first time riders at some point.  These are NO DROP RIDES…the only no drop ride OCC offers.  No one will be left in the dust of other riders.  If you lag behind a bit, the riders will regroup and wait for you at the next turn.  Our goal is to keep the group together as much as possible  understanding that some people ride at somewhat different speeds.  We want everyone to have fun on the ride and being left behind to fend for yourself is not fun.
We'll be meeting at the usual location in the west end parking lot at Reed-Webster Park in Camillus on Rt 173 (Warners Rd.).  Riders will be heading out on the rides Tuesday evenings (weather permitting) at 6:00 PM sharp since the days are not yet very long.  The riders will be split into at least two groups.  One group will be for novice riders with little to no experience and will travel 5-10 miles along relatively level routes, some of which will be along the canal path.  The second group will ride on the roads for 10-15 miles on a fairly level route with a few small hills.  It's early in the season and many experienced riders as well as new riders will need to build their legs for the first few weeks.  We'll gauge the routes to meet the levels of the riders that turn out for the ride.
If you are doing a charity ride this season, this is a great opportunity to get some training in before the ride.
If you got a bike for Christmas, this is also a great opportunity to get out and ride it.
If you like to ride with a bunch of friendly easy-going cyclist, this is your ride.
Lastly, if you bought that bike a couple of years ago with great intentions and it has sat in the basement or garage, dig it out and use this ride to get yourself going.
Riding is not only fun, but it is a great form of low impact exercise.
You don't need special clothes to ride.  Wear whatever you are comfortable in…this is not a fashion show.  (bike clothes can come later once the bug really bites you)  All you really need is a bike helmet (required by OCC insurance rules), a water bottle to stay hydrated and your bike.  Check out your bike before the ride to make sure it is ride ready and the tires are properly inflated.  If it is cool, dress appropriately to stay warm in a 6-10 mph breeze…even on a calm night.  Gloves may be needed on a cooler night.
Mike and I are usually there from about 5:30 pm on.  Come early if you have questions.  We are always glad to help you and make your riding more enjoyable.  You do not have to be a member of the OCC to try this ride.  Guests are welcome and encouraged.  Hope to see our group from last season as well as a whole bunch of new folks next Tuesday evening.  I don't know yet what Lee will have for post ride treats. J  It will be a surprise.
Keep pedaling…
Tony Baleno