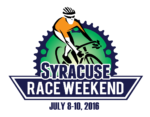 Our annual Syracuse Race Weekend is being held July 8th, 9th and 10th, 2016.
As always, the success of the event always comes down to the OCC membership coming out and lending a few hours of their time.  Volunteers don't have to be OCC members, so feel free to grab a neighbor or family member to help out too.  This year we're using BikeReg to organize volunteers.  Please register at BikeReg – 2016 Syracuse Race Weekend Volunteer Registration.
As an added bonus, this year all volunteers are invited to join us for dinner at Beak & Skiff on Friday night, July 8th.  You can sign-up for dinner on the BikeReg volunteer registration page.
If you have any questions, e-mail or call Todd: brewer13210@yahoo.com. 315-263-3712
Tags: feat