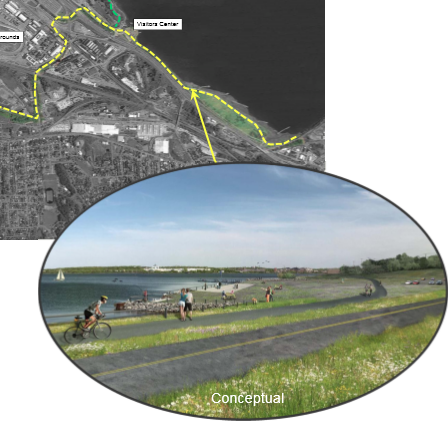 The State is planning a project to extend the OLP west side trail to the southern corner of the lake and to connect the Erie Canal Trail to the lake trail. We have an opportunity to make our voices heard. You may sign a petition and submit commits.
You can visit https://www.fws.gov/northeast/nyfo/ec/onondaga.htm for info about this and other related projects.
The petition is located here: https://www.ipetitions.com/petition/onondaga-lake-park-loop-the-lake-trail-extension
The plan poster is located here:https://www.fws.gov/northeast/nyfo/ec/files/onondaga/Erie%20Canal%20&%20SW%20Lakeshore%20Trails%20Poster%204-12-17%20b.pdf
A public comment session and additional open house are scheduled for Thursday, June 22, at Syracuse Community Connections – Southwest Community Center, 401 South Ave., Syracuse, NY 13204, in the Clover Corner room. Open house is at 5pm and meeting at 6pm.
If you would like to comment directly, comments may be submitted through July 17 by mail to Anne Secord, U.S. Fish and Wildlife Service, 3817 Luker Road, Cortland, New York 13045, by email to anne_secord@fws.gov, or phone at (607) 753-9334. Verbal and written comments will also be accepted at the June 22 Public meeting.