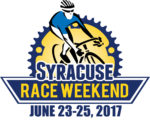 Syracuse Race Weekend  – Frequently Asked Questions
Q: If I don't start or finish one of the races, can I still participate in subsequent events?
A: Absolutely.  Syracuse Race Weekend is a points Omnium.  If for example you don't participate in the hill climb, you can still participate in the rest of the races, the down side being that you won't score any points for the event you miss.
Q: The omnium consists of four events, will I have a different number for each race?
A: NO.  You will be issued your race number at registration which you will use for each event.  If for any reason you ride with a different number, you will not be scored correctly.  Please don't loose, crumple or mutilate your number.   The numbers are Tyvek and durable, and should last for the entire weekend.
Q: The omnium consists of four events, do I need to register at each event?
A: No.  Once you have registered and picked up your number, you do not need to register again.
Q: What is the format of the hill climb, is it a time trial style prologue?
A: No.  The Hill Climb is a mass start like any other road race, be sure to bring your road bike Friday night.
Q: What conditions are the roads in?
A: Generally they are in pretty good shape, however it is Central New York, so there are a few rough spots to look out for.   We will do our best to mark pot holes and rough patches with orange road paint.
Q: What kind of mechanical support will be available during the races?
A: Neutral race support provided by Bike Loft East will be available for each event.  There will be on-road support in the form of wheel cars and motos for the Hill Climb, Time Trial and Road Race, and a pit during the criterium.   Note that due to the number of fields for some of the events, some of the wheel cars will not be operated by Bike Loft East.  For those vehicles, there will be standard wheels-in, wheels out rules.
Q: Are there any restriction on bikes and equipment?
A: Yes.  All equipment must be USACycling and UCI compliant in accordance with the 2017 USAC rule book (Section 1I).