Help Jan Maloff in the Annual CNY Family Bike Giveaway.
If you'd like to help this year there are three ways you can choose to support this very worthwhile central NY tradition:
Donate some time and turn a wrench – Saturday and Sunday,  Dec. 12th & 13th, Jan and volunteers will be at the Toyota building at the NY State Fairgrounds.  Please call

446-7570

as Jan will tentatively be there from 11:00 AM on.

Once you get to the Fairgrounds there will be someone at the gate and signs that will lead you to the location.

Donate a bike – Jan is still in need of some "descent" bikes.  If you have a bike to donate please give Jan a call,

446-7570

.  When you call if you get an employee at his funeral service please let them know that you are a member of the Onondaga Cycling Club as Jan wants to personally speak with and thank each donor.
Donate financially – As always, funds are needed to purchase parts to refurbish bikes.   C.N.Y Family Bike Giveaway is a registered charity and your donation is tax-deductible.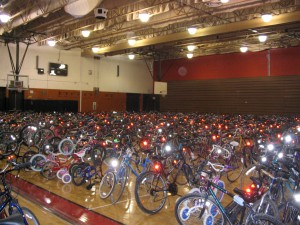 Last year we repaired and gave away over 2,000 bikes.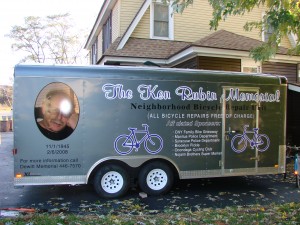 During this summer we distributed over 700 bikes in some of our most impoverished neighborhoods in Syracuse and we repaired hundreds more. The repair trailer is fully equipped and stocked with bike parts and tools and will become a regular part of our summer giveaway program. We also use this opportunity to mentor the bike recipients on how to care for their bikes.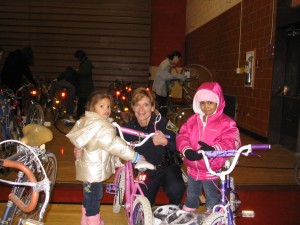 Looking forward to this season's Christmas bike giveaway, we are hoping that you can contribute. Our funds are extremely low at this time and need has never been greater.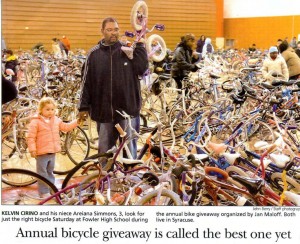 We are servicing more families than usual due to the economy. We understand that the economy may have affected your ability to donate, but I am asking you to please donate. Our program is a registered charity and is tax-deductible.
C.N.Y. FAMILY BIKE GIVEAWAY
4612 SOUTH SALINA STREET
SYRACUSE NEW YORK 13205
(315) 446-7570
DIRECTOR JAN MALOFF