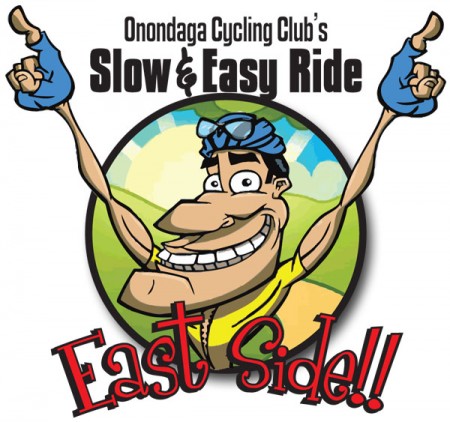 The rides will be every Thursday in the summer at 6pm, beginning from the Fire Station Parking lot in Minoa (find it here).
Here is a link to the map we will use:
The weekly Thursday Night "Slow'n Easy Rides" are for people who are new to cycling,  just don't want to go fast or just can't:
if you are new to riding or just starting again;
if you want to ride on roads with little or no traffic;
if you want a ride that is relatively flat;
if you want to bring the kids along for a slow group ride;
if you are an experienced rider who only wants to go slowly and look around more or is looking for any EASY recovery ride.
There will always be at least two experienced riders present to help with equipment and to offer advice.  Our goal is to provide every participant with a fun experience as well as one where they can gain more knowledge about our sport and maybe even a higher level of fitness.
The rides will be chosen to fit the group that shows up and no one will be left behind.  At first, the rides may be no longer than 8-10 miles with few (if any) hills and frequently along the Erie Canal.  As the season progresses and our riders gain more confidence in their cycling abilities, we will probably get more ambitious, lengthen the rides a bit and venture onto road routes in the area.  However, they will never be beyond the abilities or inclinations of everyone who shows up.
The one firm requirement for participating is that you wear a bicycle helmet and have your own bicycle; whatever type you like to ride.  Beyond that, it's good to carry a water bottle, and the basic repair kit consisting of tire patches or extra tube, a pump and a tool or two.  Our ride leaders will be glad to help with whatever on the road repair needs to be made.
Questions? Contact Gus Engbretson – gus.engbretson@gmail.com.