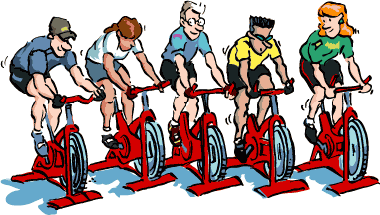 Our Club sponsors Central New York's only cycling Winter Training Facility (WTF) where you can train through the off-season on your own bike – free of charge as a benefit of your membership.
The WTF is operated by the CNY Triathlon Club, with sponsorship by the Onondaga Cycling Club.  The WTF is located on the basement level of Shoppingtown Mall in the space formerly used for the Dewitt library.
Training Rides
The facility has 50 Kurt Kinetic trainers, a sound system, and two large screen video monitors.    Rides are volunteer led, are free for members of our Club, and run from late fall (November) through early spring.
Check the calendar for class times!  Bring your bike, water bottle, towel and your desire to have a great workout.  Be sure to sign-in for each session.  The WTF has a women's and men's changing area, a bathroom in the facility and nearby in the mall.
If classes are cancelled, an update will be posted on the OCC and CNY Triathlon Club Facebook pages.  The WTF is open only during scheduled class times.
Directions and Parking:  To get to the WTF, enter the mall from Kinne Road, and park on the first floor of the parking garage.  Use the mall entrance to the left of Sears.  Do not go up the escalator, just walk down the hall and you will see the facility.  When the parking lot/road is wet or snow covered, carry your bike to the mall entrance and roll your bike the rest of the way to the WTF.  We want to keep the trainers corrosion free. If you have never used a bike trainer, no worries!  It is easy and the leader of the session will show you how to set up your bike.
Leaders Needed
Ride Leaders are needed at the WTF.   If you would like to lead a class, or can provide back-up to one of the other leaders/instructors, please let one of the instructors know or email the CNY Triathlon Club wtf@cnytriathlon.org.