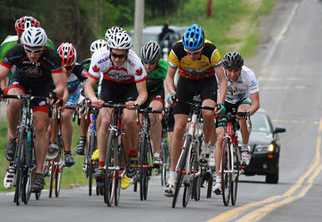 Saturday & Sunday, May 18th & 19th, 2013, Syracuse, NY
Presenting the 2013 Tour de Syracuse Omnium Classic – A two-day, three race event –
Come out and join us as registration is now open.
And as always, thank-you for making the Tour de Syracuse Your event!
This year's races include two new courses found on the following days:
Saturday May 18th: the Time Trial and Criterium
Race 1 – The Pleasant Valley Time Trial – an 8 mile Individual Time Trail with a "pleasantly" deceptive name.  This is the Time Trail course of the original Empire Games State games.  We're sure racers will welcome its return.
Race 2 – The Onondaga Park Criterium – located in the Strathmore section of Syracuse, the .95 mile criterium loop has been a part of this race for years.  There's good reason why we keep returning.
Sunday, May 19th: the New York State Championship Road Race
Race 3 – The Tully-Otisco Valley Road Race – a classic road race course through the scenic, glacially  created, eastern Finger Lakes Region.  This year's race will start at the Tully Jr./Sr. High School, race the hills and valleys, and finish with a classic ¾ mile climb.
Race details and additional information can be found at The Race website: http://tourdesyracuse.com