OCC Annual Charity Century Ride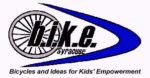 Proceeds will benefit b.i.k.e. Syracuse a program for inner city kids:
b.i.k.e. Syracuse:  Bicycles and Ideas for Kids Empowerment
"We work with children from low income families between the ages of 8 – 14 through a program of Adventure bicycling and learning through experience. The b.i.k.e. experience provides a sense of belonging while working with the whole child building physical fitness, academic achievement, and self-discipline, while having fun. Our program includes tutoring, excursions to parks, museums and races, participation in community and cultural events. Breakfast and lunch is provided. The bicycle is a tool that we use to encourage children to race after their dreams and challenge their fears."
To find out more go to: http://www.youtube.com/watch?v=4m9WnaCi8dc&feature=youtube
The Details
Date: September 12th, 2015
Distances: 100, 63, 37 and 20 mile routes
Starting Times: 8:00 AM for the 100 mile ride, 9:00 AM for the Metric 63 mile ride, 9:30 AM for the 37 mile ride, and 10:00 AM for the 20 mile. The park opens at 7:30AM and same-day registration starts at 7:45 AM.
Starting Location: Most years: Carpenter's Brook Fish Hatchery, 1672 State Route 321, Elbridge, NY 13060 (6 miles west of Camilus on Hwy 321)
Routes: Route maps can be found on our Ride Calendar.
Route Directions: The route will be marked and there will be cues and maps available as well.
Rest Stops: Two for the full century route and one for the metric century (62 miles). They will have drinks and food.
Post Ride BBQ: On your return to Carpenter's Brook, food and drinks will be available for all riders.
To Register:  https://www.bikereg.com/occ-bike–syracuse.
To make a donation go to: http://www.bikesyracuse.com
For more information contact Mike Lyon, 689-1931 / ridebent@twcny.rr.com.