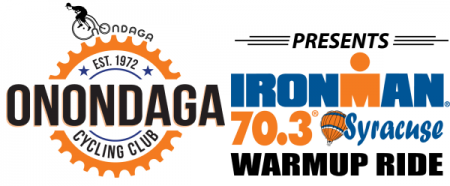 It's been a great time for the last couple of years so why not do it again. Our June 3rd Club Ride is from Jamesville Beach and will do the Iron man 70.3 course with a picnic to follow.
Registration for 2017 is now closed.
Although it says that it is an Ironman Warm-up, it is NOT a race and there is a 22 mile option not to mention a bunch of our rides go by here, so makeup one of your own. There will be ice cream at the DeRuyter General store, which is at the half way mark for those of you doing the 56 option. Also, there will be food and fun back at the park.
When: Saturday June 3rd.  
Start times:  9:30 AM – 56 Mile Ride  /  10:30 AM – 22 Mile Ride
Pre-registered price: $20
Day of Registration: $30
Where: Jamesville Beach Park
What is it: A warm up cycling event, with two great rides and food.  
Who: for all cyclists and triathletes ranging from those who ride for recreation and fun to those who like to ride hard and test themselves.
What to Expect
Two great ride choices – the 56 mile Syracuse 70.3 Ironman bike course, – an easy and fun 22 mile cruise.

Ice cream stop
Post ride catered picnic, festival, and fun
Maps can be downloaded here:
Feeling lucky? We will be holding a few raffles with prizes from our local bike shops. So don't miss the fun all for only $20.
See you in 2018!