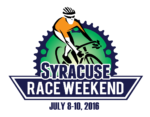 Syracuse Race Weekend
Course Maps and Information
Click on the "View full route" link on each map to view the full size map of the course.
Hill Climb – Friday July 8th, 2016
The Hill Climb starts at 5:30 pm
Parking and registration are at Beak and Skiff Apple Farm, 2708 Lords Hill Road, LaFayette NY 13084. The map below shows the start of the race after the neutral start.
Once you've finished the hill climb, DO NOT return down Dutch Hill Road.  Continue back to Beak and Skiff via the route shown below.
LaFayette Time Trial – Saturday July 9th, 2016.  First racers start at 8:00 am.

Registration is in the parking area at the LaFayette Apple Festival Grounds.  From Rt 20 heading West from Rt 81, drive past the festival building and turn left on Tully Farms Road.  Go down Tully Farms Rt 0.4 miles and the parking entrance will be on the left.

DO NOT Use the parking lot along Rt 20, that will be occupied by a Boy Scout troop camping for the weekend.
LaFayette Time Trial Jr Course (Jr Boys and Girls 10 – 14) – Saturday July 9th, 2016.  First racers start at 8:00 am.
Directions from the Time Trial parking area to the start:
Directions from Time Trial Parking to the Criterium:
It is about a 20 minute trip between venues.
Criterium – Saturday July 9th, 2016
The criterium consists of a 1.5 Km loop around Hiawatha Lake Park.  Note that the race direction is counter-clockwise around the lake.
The criterium starts at 11:00 am. Park in the grassy area between Onondaga Park Drive and Crossett Street.

Road Race – Sunday July 10th, 2016
Depending on your race category, you will be doing one, two or three loops around the course.
The map below includes the start and the first loop around the course.  The first field leaves at 9:00 am:
Start and first loop around the course:

Final leg of race with finish in the Village of Tully:

 If your field is making additional loops around the course, follow the map below back to the corner of Lake Road and State Route 80 where you follow the course to the finish as shown above.